If you don't see the directory frame,
Please Click
---
---
I know something you probably should know too. There is nothing like a motorcycle ride to clear your head and put you in a good mood. The sheer feel of freedom and control that are intentionally avoided by my 4 wheel counter parts. Where they ignore and avoid any feeling, or thinking. I revel in the sensations. The air rushing past, the feel of the pavement through hands and feet, the engine and chaise communicating with me, and the beautiful scenery rushing by. No, there is nothing in motoring to compare with feeling of unity between a man and a motorcycle.
Yes, I've heard the many safety arguments relating to motorcycling but the bulk of the 4 wheel advantage is to be found in shear mass. The steel cage allows a much higher survival rate than leather and helmet. What this argument fails to answer is the question of why get into an accident in the first place ? I'm sure all of our insurance premiums would appreciate a little more avoidance vs. crash and sort out the bodies. However, the surest way to confirm my own opinions of motorcycling over 4 wheeling can be summed up in one question. How was your ride into work today ? If you commuted then I'm sure that boredom was your copilot. If you rode in then I'm equally sure you can provide detailed information of the entire trip. This to my mind is the biggest difference between motorcyclists and commuters. I enjoy, while they endure!
How about a little written and visual history .
Well I started my motorcycle journey in 1980 at the age of 17 with my first motorcycle (Ha Ha) a 77 Honda 90cc Step Through. It was an interesting teaching machine that after many a limited dump taught me the virtues of handling, or lack thereof. I was also able to ride many other bikes between then and what would be my first "real" motorcycle which I purchased in 82.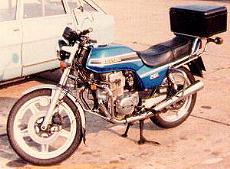 The 1980 Honda 250 Super Dream that I bought as an airmen stationed at RAF Woodbridge UK, embodied everything that was cool in England at the time. It was a beautiful blue color with great lines. During the many trips I would take it on, I received a lot of favorable comments and people seemed to genuinely like it. For a first full time machine it was an excellent learning bike being very forgiving to its owner. It also taught me the virtues of quality rubber for keeping the shiny part up , as I dumped trying to imitate (or perhaps being too successful at imitating) Randy Mammola.


---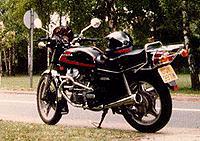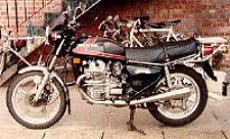 Mechanically solid would be the easiest way to describe the replacement for the dream, an 81 Honda CX 500 twin. Not too good at speed, handling, or braking but this bike was a touring dream. Having never had to do anything but change the oil and tires plus add a little petrol every now and again this was the Swiss army knife of motorcycles. Not a lot to look at but you were sure going to get wherever you needed to go. After leaving the CX to be sold by a friend I headed back to the states with the hope of finally being able to afford a "big bore" bike at last. And true to my dreams, I had a choice of several steeds. The Honda CB1100F was certainly a bike I liked a lot and it reminded me of my old 250 Dream. The boulevard muscle machine, Honda Magnum V65, was another tempting steed that I let pass by. But the one I couldn't resist as it set my eye and heart on fire was my first "Realllll" bike the 84 Kawasaki GPZ 750 Turbo.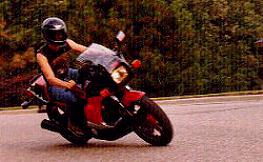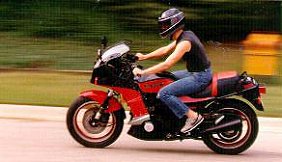 ---
Man what a machine and the fastest/quickest production bike for sale ( for all of about 6 months until the V-Max blew it out) at the time, and slick as any machine ever made. Joining the small but brave turbo crowd I learned what was no secret to two-stroke riders, how to find and use the power band. Or as we say in turbo`es get on the boost. Being a 750 helped a great deal in dealing with turbo lag, as the bike already had good horse power to pick up the pace. But man when that turbo was whining and the LCD boost gauge would light up that thing would flat out fly down the road. It turned many a "straight" road into a series of unending curves. The striates always being to short. But as we all learn at some point in our motorcycling career, man does not live by horse power alone. And unfortunately the turbo suffered from pogo itis along with a bad case of the no stop`es. So I decided that it was time to trade up.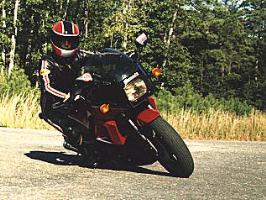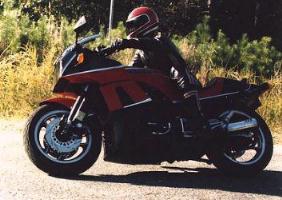 At about the same time I landed my dream part time job. Mechanic/Gopher/Salesman/Show Coordinator, at Harley - Kawasaki of Goldsboro NC. It was a fantastic time in my life as I had access to all the extremes in machinery. Every chance I was given, I was out riding something new or different. From a Harley FLTC Tour Glide to KX 80 to Kawasaki 900 Eliminator to a Kawasaki three wheel 250R Tecoti racer . I learned a lot in that one year period about what was good and what was crap.

It also provided me with the ability to easily trade up to my next steed the 85 Kawasaki ZX 900 Ninja. At the time touted to be the best handling street bike around. After having bought it I must agree it was the easiest bike I had owned to ride fast, good linear power, good breaks, and an excellent chaise. It was the summer of fun on my 900.

---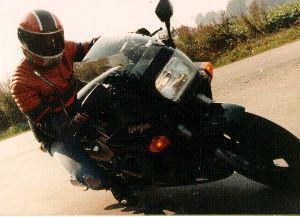 Well having enjoyed my summer on the 900 it soon turned cold and it was time to receive the new 86 models. My boss thought it would be good to order one of the new Kawasaki flagship ZX 1000 R's to put out on display on the show room floor. Of course I got the call to put it together, out of the crate, as soon as it arrived. Well I have to say it was love at first wrench. As soon as I got it together and took it for a test ride I wanted it. So by now you can guess what happened to the 900 (its trade up time !).

Within three weeks of having bought my new wonder steed I had received orders to return to RAF Woodbridge UK, only this time I would have a machine worthy of the English motorways.
The simplest way to describe the ZX would be "mile eater". Having taken it all over England, Holland, and Northern Germany, this bike proved again and again when its high speed touring its a ZX 1000 you need. Many is the time I commuted between Alhorn and Jeaver in Northern Germany (70 miles ) in just under 30 minuets on the straightest, most traffic free section of the Audobhan. A great motorcycle and certainly my definition of the UMJ (Universal Japanese Motorcycle), but having kept the ZX through two seasons, I was curious to try something new (You never know what you've got until its gone). So, being in the land of no emissions testing I thought I'd try something radical.....


---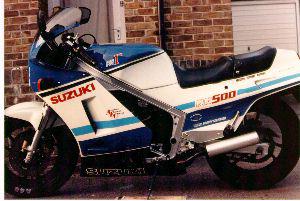 Say a two stroke square four engine, aluminum frame, floating disks, and a kick start the 85 Suzuki RG 500 Gamma two stroke. I went from mile eater with good handling to adrenaline pump with excellent handling and a rock for a seat. Certainly the quickest (from my seat of the pants meter) motorcycle I'd ridden to date. It was also the king of the wheelies. When the tach hit about 5000 and that power band hit, it was a real wrestling match to keep the front wheel on the pavement.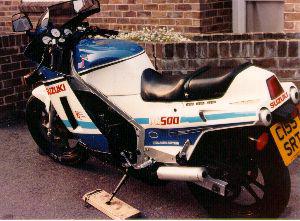 Slice and dice was how you got through traffic and I could get all over London and always find a parking spot for my little machine. However, eventually my brains moved to my butt and I got tired of the numb seat commute to work every day, so off to the dealer I went, yet again (By this time Stag Kawasaki, Orwel Suzuki and the Ipswich Honda dealer where all pretty familiar with me as I was always on the lookout for their latest trade-ins).



---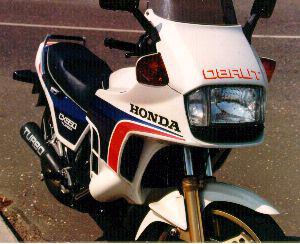 Having always liked the look of the original Honda CX 500 Turbo but also having heard of its turbo lag trend, I saw its successor the Honda CX 650 Turbo and thought I'd give it a try. Comfortable and tall (High CG) is the easiest way to describe the CX but Honda really fixed the turbo lag. It's amazing what another 100cc's and a little more boost will get you. A really powerful torque filled motor is what. The motor power delivery and comfort were the best things to like about the CX. However, shaft reaction and no suspension made for a lot of unnecessary grinding of chaise parts. The only bike I'd ever owned that you had to hold an absolutely steady throttle position going through corners. Even the slightest modulation of power and you were wound up or dragging parts. After a few close calls and learning that all that power had to be kept under a very tight rain I was back to the dealer again, for what would be my last English spec bike.
---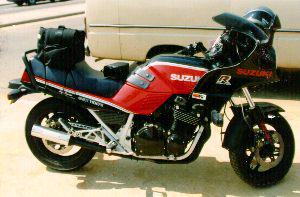 I'd been to Sana Pod speedway in Podington for some of the drag racing and thinking that I'd like to give it a try, my next bike was geared towards a simple but strong motor that I could get affordable mods for. The 88 Suzuki GS1100 E (GS1150ES in the states) was the logical choice. It was a very appealing mix of handling, engine, and comfort and had lots of upgradeability built in. So after numerous upgrades, it was off to the track where I learned new respect for what on the surface appears easy but in practice is very hard. Drag racing is definitely a sport of splitting hairs and clutch control. I had several attempts through the season and even ran in the sportsman class where I had an excellent time and learned that I had a long way to go to be good at the strip.
Then after already having made big plans for the next season two important things happened to change my course. First I got married (yes there goes all those spare motorcycle bucks !) and second I found myself with orders back to the states.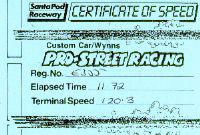 So unhappily saying good-bye to both my GS and Europe I was saying hello to emission testing and cops with nothing better to do but slow me down. In addition to all the joys of 55mph driving it took me almost two years to get back in the saddle again, although this time handling won out over all other considerations. So, we come to my last motorcycle the 91 Kawasaki ZX 750 Ninja. Talk about cornering on a dime, this thing could read my mind with the tightest chaise of all the bikes I'd owned to date. I would look forward to every corner I could put my tread on, and would intentionally try to find the twistiest roads around.


---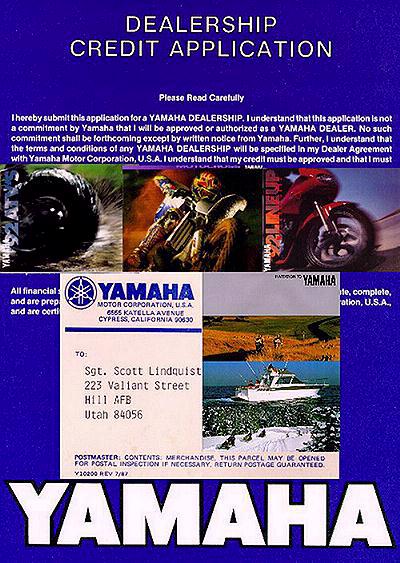 At about the same time I was given the opportunity to get out of the service with a tidy sum of money as incentive. So with this and a good friend JC Crumbly we explored the possibility of fulfilling a life long dream of owning and operating our own motorcycle business. At the time Newgate Honda of Ogden UT. Was looking to sell their satellite store Newgate Yamaha of Layton UT . JC and I had several talks with different family members who where the owners but could never pin them down on cost of parts and "Good Will" of the business. So after several months of business plans, Yamaha dealer applications, and bank information we decided the deal had too many "Red Flags" and pulled out of negotiations. So much for the ultimate motorcycle dream. After the decision to pull out was made my family and I decided to invest in a home instead of a business, and with the coming of fatherhood, release from the service, and new home ownership I had to sell my beautiful "Kaw", leaving me in the unenviable position of reminiscing about the good old days when I always had two wheels beneath me and a smile behind my visor. But fear not, as soon as it is affordable I'll be back in the saddle again. So thanks for reminiscing and always keep the throttle pinned and the rubber down. Happy Knee Dragging




Here are my current dream motorcycles
The Ducati 916 (996 as of 99) or the BMW R1100RS

PLEASE HELP ME decided which way to go!



If you have experience on either machine tell me about it so I can make up my mind.
Thanks in advance for any assistance in solving this pleasant dilemma :)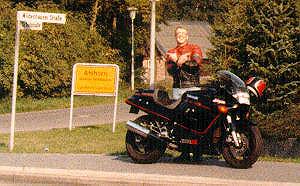 HTML / Page, Created by
Scott <Stormbringer> Lindquist storm@stormbringer.net
If you don't see the directory frame,
Please Click